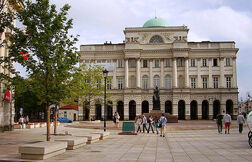 Finskeby Palads
er det
kongelige palads
i
Finskeby
 (i det
Gamle Centrum
). 
Slottet blev bygget fra 1828 til 1831 og var huset af den dansk guvernør i Strasland. Da Strasland blev selvstændigt, dronning Maria havde slottet udvidet (1849-1855).
Efter Strasland blev en republik, regeringen havde slottet omdannet til et Presidencial bopæl. Efter 1948, er kun en lille del, der benyttes af den kongelige familie og resten er åben for turister.
Ad blocker interference detected!
Wikia is a free-to-use site that makes money from advertising. We have a modified experience for viewers using ad blockers

Wikia is not accessible if you've made further modifications. Remove the custom ad blocker rule(s) and the page will load as expected.