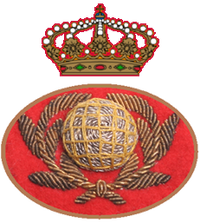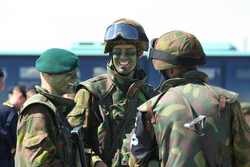 De
kystnære infanteri
er en enhed af den
straske
flåde bruges på land. Det er en del af den
Straske Flåden
. Opgaven for det kystnære infanteri er at gennemføre modangreb mod fjendtlige landinger i Strasland. De kan handle på egen hånd eller med støtte fra flådens skibe. Uddannelse anses for at være hård og udfordrende. De vigtigste elementer i infanteri uddannelse er kamptræning, våben håndtering, udholdenhed og mobilitet. Fysisk, infanteri uddannelse lægger vægt på udholdenhed i stedet for kortsigtet fitness.
Strasland har 950 soldater i de kystnære infanteri. 35 er i militære efterretninger, 50 er i drift, og 865 er infanteri soldater. 125 marinesoldater blev sendt i en flåde skib til Lovia at støtte regeringen. 45 soldater angrebet fjenden med morterer at sprede dem. De bistas traspesiske soldater.
Militære rækker
Edit
Vicekorporal
Korporal
Sergent
Oversergent
Seniorsergent
Løjtnant
Premierløjtnant
Kaptein
Major
General
Ad blocker interference detected!
Wikia is a free-to-use site that makes money from advertising. We have a modified experience for viewers using ad blockers

Wikia is not accessible if you've made further modifications. Remove the custom ad blocker rule(s) and the page will load as expected.