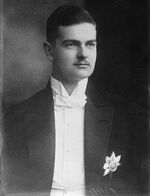 Oscar II af Strasland
(1847-1903) var en
konge af Strasland
1895 til 1903. Han blev født til
Oscar af Strasland
og Prinsesse Anna (Anna Jansen). I 1868 giftede han sig med prinsesse
Hortense
af
Libertas
og de havde tre børn.
Oscar blev konge i 1895, da hans far døde. I 1903 Oscar døde under mystiske omstændigheder. Lægerne sagde, at han døde af et slagtilfælde, men andre troede, han blev forgiftet. Hans søn Carl blev den næste konge.
Ad blocker interference detected!
Wikia is a free-to-use site that makes money from advertising. We have a modified experience for viewers using ad blockers

Wikia is not accessible if you've made further modifications. Remove the custom ad blocker rule(s) and the page will load as expected.